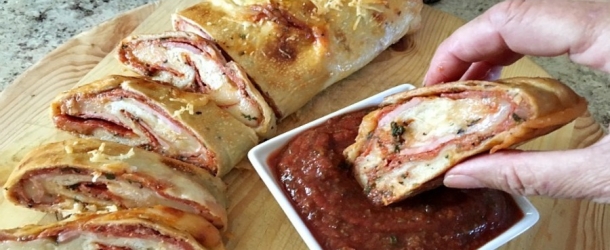 Did somebody say Stromboli?! Yes, yet another way to eat your pizza that is perfectly dippable! Make it as "homemade" as you'd like, or use store-bought ingredients for a short-cut version that's just as scrumptious.
This Stromboli is a fantastic appetizer idea for your next get-together, or even a tasty lunch idea. It reheats well to take to work throughout the week, or make a double batch and freeze it for when you're in a pinch. You can't go wrong with Italian food and this Stromboli won't disappoint!
Recipe and Image courtesy of My Turn For Us
GO TO THE NEXT PAGE FOR INGREDIENTS, DIRECTIONS & FURTHER COMMENTS
Quick Tip: Use half the dough for one stromboli, plastic wrap the other half and put in the fridge for a quick pizza another day!