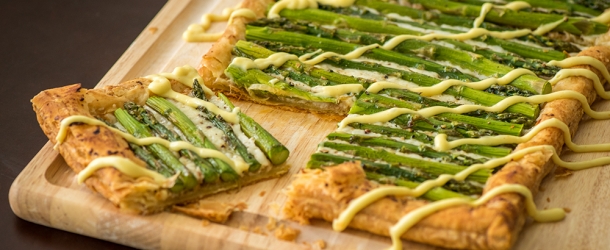 When you think of plating lovely asparagus, the last thing you think of it on, is a tart.
But that's the best thing about this bite size amuse bouche!
Hollandaise seems to be the perfect union with asparagus flavors, and even the kids love these…
even if they eat them with one pinkie up! 😉
This recipe serves 4-6 people and is ready in about an hour.  Don't worry, though, it's all worth it!
Make sure you let the asparagus completely cool on the tart, before drizzling the sauce.
Our friends at 12 Tomatoes had this to say about this dish:
"We love the combination of salty cheese, earthy asparagus, and sweet and tart balsamic vinaigrette here, not to mention how cute it looks all sliced up! It makes a lovely addition to any springtime spread, particularly brunch (our favorite meal). When we want to wow our friends and family, we whip up this savory tart – they're always amazed at how elegant it is, and we're always amazed at how easy and delicious it is!"
Recipe and photo courtesy of 12 Tomatoes
GO TO THE NEXT PAGE FOR INGREDIENTS, DIRECTIONS & FURTHER COMMENTS