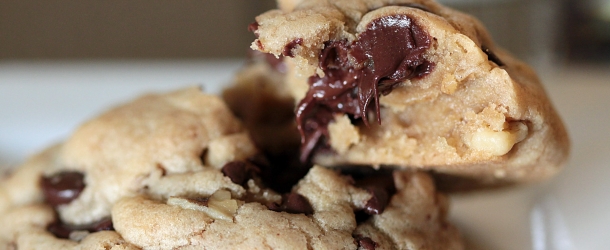 You would absolutely never believe that chocolate chip cookies was a way to use up old Easter or hard boiled eggs.
But STOP the presses, because these cookies are chewy, gooey, and best of all?
You're not wasting food.  You can move entirely out of the conventional box of a simple egg salad or deviled egg.
This recipe takes about 15 minutes to bake and makes about a dozen or so, depending on size.
I made these for my kids, and they said they were super soft and chewy.  I got a thumbs up! 😀
I threw in some walnuts because I like a little chewy and a little crunchy, all in one.
Either way, what an excellent way to reuse hard boiled eggs!
As our friends at Back for Seconds state:
"You seriously cannot taste any egg in these cookies. I promise. They are chewy and soft with crisp outer edges. They have a deep, rich flavor from the brown butter and brown sugar, and they are loaded with 2 kinds of chocolate chips! They have a touch of cinnamon too, which adds such a nice flavor without being overly cinnamony.
Please, do yourself a favor and take a couple of those extra Easter eggs you have laying around, and bake these cookies! Then come back and tell me I'm not crazy after all."
Recipe and photo courtesy of Back for Seconds.
GO TO THE NEXT PAGE FOR INGREDIENTS, DIRECTIONS & FURTHER COMMENTS