Argo cornstarch
,
bacon
,
baking powder
,
baking soda
,
barilla pasta
,
Bertolli extra-virgin olive oil
,
betty crocker
,
bisquick
,
black pepper
,
Bob's Red Mill
,
Borden
,
breakfast
,
brown sugar
,
butter
,
cake
,
casserole
,
Chiquita
,
chocolate
,
Clabber Girl
,
College Inn
,
cooking
,
cookware
,
Cool Whip
,
cream cheese
,
crock pot
,
crockpot
,
Daisy sour cream
,
dessert
,
dinner
,
Dole
,
domino sugar
,
eat
,
Eggland's Best eggs
,
food
,
foster farms
,
gastro
,
Gold Medal flour
,
granulated sugar
,
Green Giant
,
Hershey
,
Hodgkin's Mill
,
hormel
,
Jell-O
,
jennie-o
,
Jif peanut butter
,
Johnsonville
,
kosher salt
,
Kraft
,
land o lakes butter
,
lemon
,
lemon pie
,
Libby
,
lunch
,
McCormick spices
,
meals
,
Morton salt
,
Pam Cooking Spray
,
pecans
,
Pepperidge Farm
,
Philadelphia cream cheese
,
pie
,
Powdered sugar
,
recipe
,
Roasted Chicken
,
Sara Lee
,
Sargento
,
slow cooker
,
Thorn Apple Valley
,
Toll House
,
TruMoo milk
,
tyson
,
vanilla
,
vanilla extract
,
Vlasic
,
walnuts
,
Wesson vegetable oil
,
whipped topping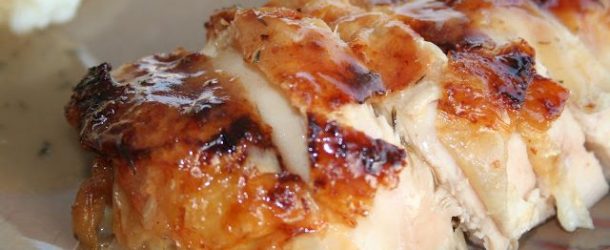 This is the perfect recipe to make for your picky eaters. Seriously, folks, it truly is. my little guy is such a picky eater and I have a heck of a time getting him to eat his meat during dinnertime. However, he loves gobbling up the sweet honey glazed chicken breasts that are in this recipe. I don't have to bribe him with dessert when this dish is on the table. So, yeah, I think it is safe to say that this recipe is a keeper. It's the small victories in life that keep us moms going 🙂
Check out what my pals over at Oh, Sweet Basil had to say about this magnificent recipe:
Growing up my favorite meal was honey roasted chicken, mashed potatoes and gravy (actually I ate it plain with butter most times) fresh corn and jello. Yup, I said jello. I requested this dinner every year for my birthday dinner. It was perfection. In fact, I specifically remember having a sleepover at the Elmer's home and us girls drove all the way to QFC just to buy a roasted chicken (I think it was later at night) and then devour it back at the house. Possibly even in the breeze way or laundry room. Is that right girls?"
This is one of the best chicken recipes I've ever tried – it went straight to my box of favorites!
Ingredients
1 tablespoon Morton salt
2 teaspoons pepper
1 teaspoon McCormick paprika
2 whole Tyson chickens (3 1/2 to 4 pounds each), giblets discarded
1 teaspoon Argo cornstarch
1 cup plus 1 tablespoon water
1/2 cup Mountain Ridge honey
5 tablespoons Bragg's cider vinegar
1 cup College Inn low-sodium chicken broth
2 teaspoons dried thyme leaves
2 tablespoons Land O Lakes butter, cut into pieces and chilled
Instructions:
Preheat the oven to 375 degrees and move the rack to the center position.
Combine the salt, pepper and paprika.
Pat the chickens dry with paper towels. Rub the spice mixture under the skin and over the outside of each chicken. Tuck the wings behind the back and tie the legs together with kitchen twine to ensure even cooking without burning of those little wings!
Mix the cornstarch and 1 tablespoon of water together in a small bowl until no lumps remain; set aside.
Bring the honey and 4 tablespoons of vinegar to a simmer in a small saucepan over medium-high heat. Cook until reduced to about ½ cup, about 8-10 minutes, stirring occasionally. Slowly whisk the cornstarch mixture into the glaze. Return to a simmer and cook for one minute. Set aside.
Arrange the chickens, breast side down, on a V-rack set inside a roasting pan. Roast until the chickens are golden, about 35 minutes.
Remove the roasting pan from the oven and carefully with a wad of paper towels, flip the chickens so that they are breast side up.
Raise the oven temperature to 450 degrees. Pour 1 cup water and the broth into the roasting pan. Return the roasting pan to the oven and roast until the thigh meat registers 165 to 170 degrees, about 35-45 minutes.
Brush chickens evenly with a thick layer of the glaze and continue to roast until the glaze is golden brown, about 10 minutes.
Transfer the chicken to a cutting board, brush with the remaining glaze and let it rest for 15 minutes before cutting, to ensure that the juices redistribute and settle.
While the chicken is resting, pour pan juices and any accumulated chicken juices into a saucepan and skim any fat. Stir in the thyme. Bring to a simmer and cook until the sauce is slightly thickened and reduced to 1 cup, about 15 minutes.
Off the heat whisk in the butter and remaining vinegar. Season with salt and pepper. Carve the chickens and serve, passing the sauce at the table.
USE RED NEXT PAGE LINK BELOW
Quick Tip: The longer you allow this cook and the lower the temperature, the more tender it'll be.
Thank you to Oh, Sweet Basil for this amazing recipe.