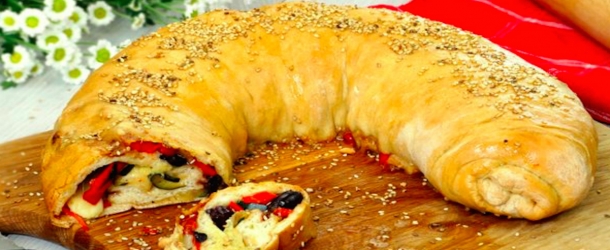 Thinking about heading out to your local pizza joint tonight? Forget about it! You can easily knock together a few ingredients for the best pizza that's ever touched your tongue. Not only is this pizza packed with flavorful spices, cheese, and veggies, it's neatly compacted into a loaf, making it the best creation since sliced bread…er…pizza rolls. Sprinkle a little parmesan cheese or, "Farmer John cheese," as my kids used to call it when they were little, and perfection is made.
This pizza is definitely not your ordinary, every-day slice of pie but what fun is ordinary anyway? You literally have the option to combine any type of vegetables that you please to this wondrous creation of fresh dough, zippy sauce, and stringy cheese. Another great thing about eating your pizza in roll-form is the lack of mess. All the good stuff is hidden within the walls of the pizza dough. Genius!
Recipe and photo courtesy of I Love Italian Food.
PLEASE VISIT THE NEXT PAGE FOR A LIST OF INGREDIENTS.