beef broth
,
breakfast
,
butter
,
carrots
,
cheddar cheese
,
cooking
,
cookware
,
corn
,
cornstarch
,
cottage
,
dessert
,
dinner
,
English
,
food
,
garlic
,
gastro
,
ground beef
,
lunch
,
mashed potatoes
,
onion
,
peas
,
pie
,
potatoes
,
recipe
,
Rosemary
,
Thyme
,
Worchestershire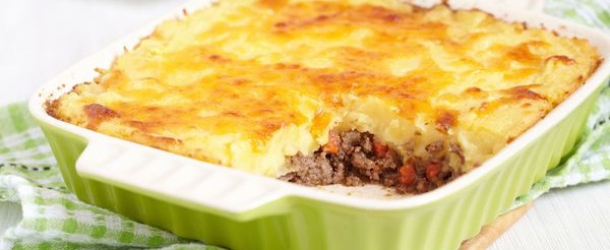 The English get a bad rap for bland food, but I happen to like many English dishes. People seem to have the wrong impression and they're afraid to even try some of these dishes, in fear of it tasting bad (or not tasting like much at all). This hearty and delicious English cottage pie is definitely worth trying! It's an easy one to cook – especially if you happen to have leftover mashed potatoes from last night's dinner.
This dish is very similar to a shepherds pie, and it is sure to be a big hit with all of your family members! I often like to add more vegetables, not because the dish needs them but simply because I enjoy them. If your kids are not the greatest fans of greens, this is a great dish for trying to hide them! (The greens, not the kids!)
Original Recipe 12tomatoes
USE THE RED NEXT PAGE LINK BELOW FOR THE RECIPE AND INGREDIENTS
Quick Tip: Refrigerate leftovers up to 2 days.