banana
,
banana bread
,
Blue Diamond Almond Breeze Unsweetened Vanilla Almond Milk
,
carrot banana bread
,
carrots
,
cinnamon
,
coconut oil
,
coconut sugar
,
Domino dark brown sugar
,
egg
,
Gold Medal whole wheat pastry flour
,
pecans
,
Philadelphia reduced fat cream cheese
,
Quaker quick oats
,
unsweetened applesauce
,
vanilla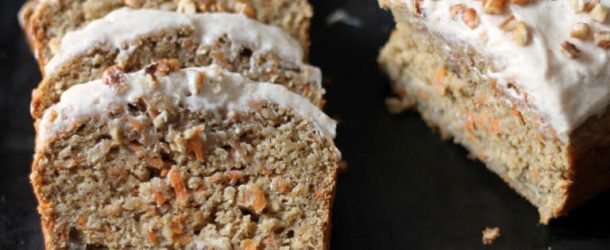 My mom makes a killer carrot cake. I mean, growing up we had Bible studies in our home weekly, and every single time my mom made carrot cake for our guests they raved about it for a long time! Everyone is always begging her to make it for dessert and so many people have asked her for the recipe. It is certainly a delicious treat that she makes really well. My mom is also amazing at making banana bread. It is marvelous what she can do with a few ripe bananas. They were always gone in no time when she made banana bread!
That got me thinking… what if I made a mixture of her amazing creations? You know, take a bit of banana bread, then layer it in a pan with carrot cake. Well, I tried it and guess what? Fail. The cakes baked at different speeds and just totally threw everything off. So then I got to thinking, what if I actually combined them both? So I did that. I practically made a batter of each, mixed it together and waited to see what would happen. The results were outstanding and well, let's just say I'll never make either of these cakes the traditional way again.
Photo and recipe courtesy of Ambitious Kitchen.
USE THE RED NEXT PAGE LINK BELOW FOR THE RECIPE AND INGREDIENTS.
Quick Tip: Add your favorite nuts into the batter.