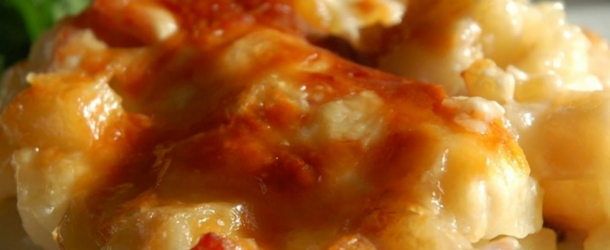 If you're anything like me, you probably cook way too much food during the holidays or for an event. Last Easter I cooked a 15-pound roast for seven people, four of which were children. So yep, there sat a gigantic slab of ham taking up massive amounts of valuable room in my fridge. What to do? Make a cheesy hashbrown ham casserole of course! This is a hearty meal that the fam absolutely loves. I mean, seriously, it has ham, hash browns, and cheese in it. What's not to love?
This delicious concoction of TASTEE goodness is so incredibly easy to put together. Chop up the ham, toss in some cheese, and empty a bag of frozen shredded potatoes into a casserole dish and that's basically it! Easy peasy, my friend. After about an hour in the oven at 350-degrees, you'll be savoring the luscious tastes of this soul-pleasing food.
Recipe and photo courtesy of Allrecipes.
PLEASE VISIT THE NEXT PAGE FOR A LIST OF INGREDIENTS.