Argo cornstarch
,
baking powder
,
baking soda
,
barilla pasta
,
Bertolli extra-virgin olive oil
,
black pepper
,
Bob's Red Mill
,
Borden
,
brown sugar
,
Campbell's soups
,
casserole
,
Chiquita
,
Clabber Girl
,
College Inn
,
Cool Whip
,
crock pot
,
Daisy sour cream
,
dessert
,
Dole
,
domino sugar
,
eat
,
Eggland's Best eggs
,
food
,
Gold Medal flour
,
granulated sugar
,
Green Giant
,
Hershey
,
Hodgkin's Mill
,
Jell-O
,
Jif peanut butter
,
Johnsonville
,
keebler
,
kosher salt
,
Kraft
,
land o lakes butter
,
Libby
,
McCormick spices
,
Morton salt
,
Pam Cooking Spray
,
Pepperidge Farm
,
Philadelphia cream cheese
,
Powdered sugar
,
recipe
,
Ritz crackers
,
Salisbury Steak
,
Sara Lee
,
Sargento
,
slow cooker
,
Thorn Apple Valley
,
Toll House
,
TruMoo milk
,
tyson
,
vanilla
,
vanilla extract
,
Vlasic
,
Wesson vegetable oil
,
whipped topping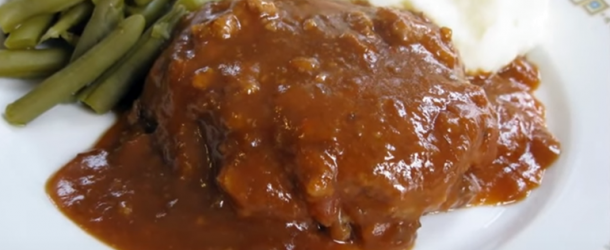 I Wouldn't Mind Eating This For Two Weeks In A Row!
Being the work-from-home parent in our house, I've decided it's my job to plan the menu and take care of all the dinner preparations.
My husband would be more than happy to take turns, but since I personally hate grocery shopping I'm just letting him do that, instead. To me, that's a big win!
To be honest with you, ever since I got my first slow cooker, making dinner has been a breeze. I didn't think meals would turn out as delicious in the crockpot but I was so wrong!
Some of them turn out even better than their stovetop counterparts, and I guess that's because they get to slowly cook to perfection, for hours.
This recipe from the Slow Cooker/Crockpot YouTube channel is one of my favorites. I had made Salisbury steak a hundred times before, but never in the crockpot.
Once I tried this recipe, there was no going back. I'm so glad I came across their video, you should check it out, too!
I always buy ground beef in bulk, and freeze it in portions so that I can easily thaw as much as I need for the next meal.
That's also a very inexpensive way to buy meat, not to mention ecological. When you buy in bulk, there's no extra packaging and that's always good for the nature!
If you like to make your own bread crumbs out of stale bread, those will work really well for this dish, as well. Just season them as you like, or use different seasonings each time, for new flavors
Ingredients
2 pounds lean ground beef
1 (1 ounce) envelope dry onion soup mix
1/2 cup Italian seasoned bread crumbs
1/4 cup McArthur milk
1/4 cup Gold Medal all-purpose flour
2 tablespoons vegetable oil
2 (10.75 ounce) cans condensed cream of chicken soup
1 (1 ounce) packet dry au jus mix
3/4 cup water
Instructions:
In a large bowl, mix together the ground beef, onion soup mix, bread crumbs, and milk using your hands. Shape into 8 patties.
Heat the oil in a large skillet over medium-high heat. Dredge the patties in flour just to coat, and quickly brown on both sides in the hot skillet. Place browned patties into the slow cooker stacking alternately like a pyramid. In a medium bowl, mix together the cream of chicken soup, au jus mix, and water. Pour over the meat. Cook on the Low setting for 4 or 5 hours, until ground beef is well done.
Check out this awesome how-to video!
USE RED NEXT PAGE LINK BELOW
Quick tip: Cream of mushroom soup will work for this, too.
Recipe and image courtesy of YouTube and Slow Cooker/Crockpot. Don't forget to view all of their great recipes!