Argo cornstarch
,
baking powder
,
baking soda
,
barilla pasta
,
Bertolli extra-virgin olive oil
,
black pepper
,
Bob's Red Mill
,
Borden
,
brown sugar
,
cabbage casserole
,
Campbell's soups
,
casserole
,
Chiquita
,
Clabber Girl
,
College Inn
,
Cool Whip
,
crock pot
,
Daisy sour cream
,
dessert
,
Dole
,
domino sugar
,
eat
,
Eggland's Best eggs
,
food
,
german casserole
,
Gold Medal flour
,
granulated sugar
,
Green Giant
,
Hershey
,
Hodgkin's Mill
,
Jell-O
,
Jif peanut butter
,
Johnsonville
,
keebler
,
kosher salt
,
Kraft
,
land o lakes butter
,
Libby
,
McCormick spices
,
Morton salt
,
Pam Cooking Spray
,
Pepperidge Farm
,
Philadelphia cream cheese
,
pork chop casserole
,
Powdered sugar
,
recipe
,
Ritz crackers
,
Sara Lee
,
Sargento
,
skillet casserole
,
slow cooker
,
Thorn Apple Valley
,
Toll House
,
TruMoo milk
,
tyson
,
vanilla
,
vanilla extract
,
Vlasic
,
Wesson vegetable oil
,
whipped topping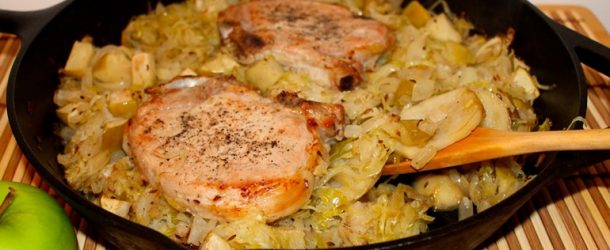 Bet You've Never Tried Pork Chops This Way Before!
I love making casseroles with ingredients that you normally wouldn't make a casserole with.
However, this isn't your ordinary casserole. In fact, some of you might even say it's not a casserole at all. I think it's a casserole but that's just me. I found this over at Savory Moments and I thought it looked absolutely delightful. So, I just had to give it a go. And I'm so glad I did!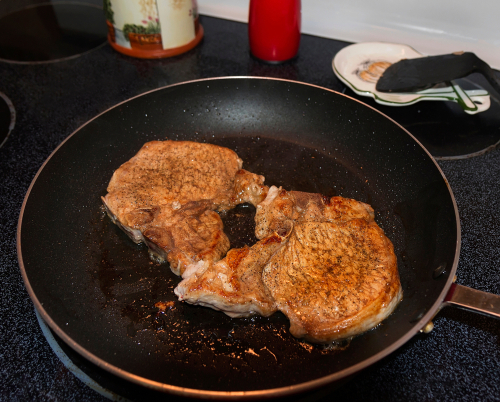 This is the perfect way to make pork chops when you want exceptionally delicious flavor.
It is a very easy one pot meal and you can double the ingredients if you're making this for more than two people. Sauerkraut is the perfect match for those juicy pork chops – to switch things up a little you could use sausage instead of chops!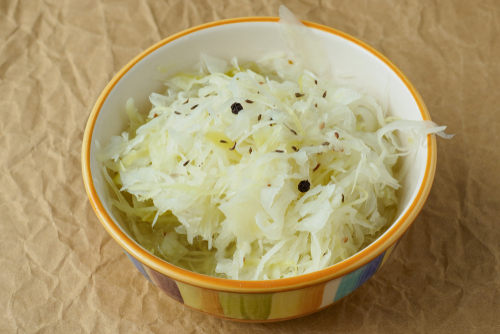 I like to serve this casserole with a dollop of sour cream and some homemade dinner rolls. It makes the perfect, comforting meal on a cold fall or winter night!
Be careful when making this, though – the wonderful aromas might bring the neighbors at your door!
I guess this isn't your typical casserole as you'll be making this in a skillet instead of a casserole dish, and there's no cream or cheese involved.
However, I think this skillet casserole is one of the tastiest I've ever tried! The prep is easy and the results are pleasy – that's what makes this one of my favorite meals on the planet.
This recipe serves two but you can add 2 more chops and potatoes to get 4 servings. Or add those chops in hopes of having leftovers – I gotta warn you, though, you probably won't have any because this is delicious!
Ingredients
1 pat of Land O' Lakes  butter
sea salt and freshly ground black pepper
2 pork chops, preferably bone-in
1 medium white onion, diced
1 large Granny Smith apple, cored and diced
1/2 teaspoon caraway seeds
2 large Russet potatoes, peeled and sliced into 1/4-in discs
about 1-1/2 cups sauerkraut
3/4 cup chicken broth
Instructions:
In a large cast iron skillet, heat a pat of butter. Season the pork with salt and pepper. Add the pork to the hot pan and lightly brown on both sides. Remove the pork and set aside on a plate.
Add the onion, apple, and caraway seeds to the skillet. Stir well and cook until the onions begin to soften. Place on the plate with the pork.
Preheat the oven to 350 degrees. Layer the potato slices on the bottom of the skillet in concentric circles. Season them with salt and pepper. Top with half on the apple-onion mixture. Then top with the sauerkraut and the remaining apple-onion mixture. Nestle the chops into the kraut and pour in the chicken broth.
Cover tightly with foil and bake until you can pierce the potatoes with a fork and the pork is cooked through, about 45 minutes.
USE RED NEXT PAGE LINK BELOW
Quick tip: Serve with a dollop of sour cream or some cranberry jam.
Big thanks to Savory Moments for this delicious recipe!