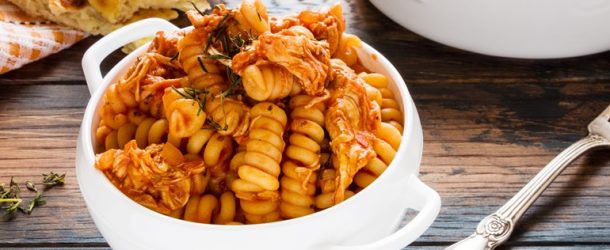 This meal is a true one-pot wonder! Besides that, this recipe is also great for using all that leftover chicken and cooked pasta from the night before.
If you like making meals from scratch, feel free to use homemade dressing, as well as fresh tomatoes instead of canned ones. But if you're like me and you barely have time to sit down and eat, then don't feel bad going for the store-bought ingredients. It's still going to taste amazing!
Ingredients
1/4 cup Kraft Zesty Italian Dressing (or use homemade)
1 lb. (2) boneless skinless chicken breasts, cut into bite-sized pieces (or use leftover shredded chicken)
1 yellow onion, chopped
2 (8 oz. each) cans tomato sauce
1 (14.5 oz.) can diced tomatoes, drained
1 (14.5 oz.) can artichoke hearts, drained and roughly chopped
1 teaspoon Italian seasoning
1/2 teaspoon crushed red pepper flakes
4 oz. (1/2 of 8-oz. pkg.) Philadelphia Cream Cheese, cubed, softened
2 1/2 cups uncooked whole grain pasta (or 4 cups cooked)
1/4 cup chopped fresh parsley or basil
Instructions:
In a large skillet set to medium-high heat, add dressing. Once hot, add chicken and onions. Cook 5 minutes, stirring occasionally, until onions are translucent and chicken is mostly cooked.
Stir in tomato sauce, diced tomatoes, artichoke hearts, Italian seasoning and crushed red pepper flakes. Cover and bring to a boil, then reduce heat and simmer. Stir in cream cheese. Once blended through, stir in uncooked pasta and cover. Continue to simmer, cooking pasta according to package instructions (usually 10 minutes for rotini). The pasta will cook in the sauce.
Stir in parsley or basil, and serve.
USE RED NEXT PAGE LINK BELOW.
Quick tip: Instead of cooking the pasta in the sauce, you can add 4 cups cooked pasta in the sauce and stir.