Argo cornstarch
,
baking powder
,
baking soda
,
barilla pasta
,
Bertolli extra-virgin olive oil
,
black pepper
,
Bob's Red Mill
,
Borden
,
brown sugar
,
Campbell's soups
,
casserole
,
cheddar cheese
,
Chiquita
,
Clabber Girl
,
College Inn
,
Cool Whip
,
cream of mushroom
,
crock pot
,
Daisy sour cream
,
dessert
,
Dole
,
domino sugar
,
eat
,
Eggland's Best eggs
,
food
,
Gold Medal flour
,
granulated sugar
,
Green Giant
,
ground beef casserole
,
Hershey
,
Hodgkin's Mill
,
Jell-O
,
Jif peanut butter
,
Johnsonville
,
keebler
,
kosher salt
,
Kraft
,
land o lakes butter
,
Libby
,
McCormick spices
,
Morton salt
,
Pam Cooking Spray
,
Pepperidge Farm
,
Philadelphia cream cheese
,
Powdered sugar
,
recipe
,
Ritz crackers
,
Sara Lee
,
Sargento
,
slow cooker
,
tater tot casserole
,
Tater Tots
,
Thorn Apple Valley
,
Toll House
,
TruMoo milk
,
tyson
,
vanilla
,
vanilla extract
,
Vlasic
,
Wesson vegetable oil
,
whipped topping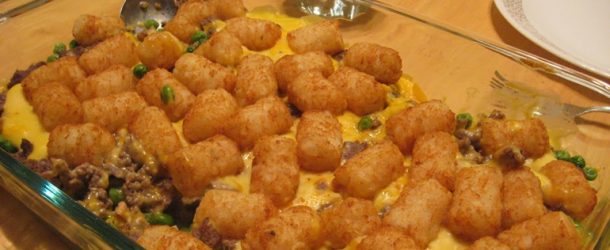 This is a casserole that does really well with even the pickiest of eaters! I've seen little faces that go from blah to so excited, as soon as they've had their first bite of this.
But don't be mistaken – this casserole isn't just for the little ones! No matter how old you are, you're going to love the flavor. And the recipe is so wonderfully versatile, it's easy to adjust it to your taste! This casserole recipe sure has been a lifesaver on many a weeknight in our house! Sometimes I get so busy with work that I don't have time to even think about what to make for dinner. This is my go-to recipe for those days!
I know it by heart already, and I like to keep it fresh by changing some of the ingredients – I just throw in whatever I happen to have at hand right at that moment!
Ingredients
1.5 pounds of ground beef
1 Can of Campbell's Cream of Celery Soup (You can also use Cream of Mushroom)
1 Can of Peas
1 package of dry Onion Soup Mix
1 Bag of Tots… Tater Tots
2 Cups of Cheese, (I prefer Sharp Cheddar Cheese)
Instructions:
Heat a lightly oiled frying pan on medium-hi heat and add the ground beef. Season beef any way you like it; Salt & Pepper, Italian Seasoning, Taco Seasoning… Cook for 10-12 minutes until meat is evenly cooked. Drain excess oil and fat, then spread ground beef evenly at the bottom of your casserole pan.
Preheat oven to 350 degrees.
Sprinkle one package of dry Onion Soup Mix on the top of the ground beef. Take the entire can of peas, juice and all, and spread over the ground beef and soup mix. Next, take your can of Soup, (Cream of Celery) and spread the entire contents over the peas. Use a spoon or spatula to spread the contents of the soup evenly. The soup appears to be thick like paste, but that's okay.
Add your favorite shredded cheese. When you are done creating a solid cheese layer, add the tater tots and arrange them across the entire casserole pan.
Bake for 50 – 60 minutes or until you see a dark golden brown color on the tater tots. Serve warm.
USE RED NEXT PAGE LINK BELOW
Quick Tip:  If you're feeling ambitious, you can make your own tater tots as well.
Thanks to Cool Like Dad for this kid friendly, easy, tater-tot casserole heaven.