Argo cornstarch
,
baked rigatoni
,
baked tortellini
,
baking powder
,
baking soda
,
barilla pasta
,
Bertolli extra-virgin olive oil
,
black pepper
,
Bob's Red Mill
,
Borden
,
brown sugar
,
Campbell's soups
,
casserole
,
Chiquita
,
Clabber Girl
,
College Inn
,
Cool Whip
,
crock pot
,
Daisy sour cream
,
dessert
,
Dole
,
domino sugar
,
easy pasta recipes
,
eat
,
Eggland's Best eggs
,
food
,
Gold Medal flour
,
granulated sugar
,
Green Giant
,
Hershey
,
Hodgkin's Mill
,
Italian chicken pasta
,
Jell-O
,
Jif peanut butter
,
Johnsonville
,
keebler
,
kosher salt
,
Kraft
,
land o lakes butter
,
Libby
,
McCormick spices
,
Morton salt
,
Pam Cooking Spray
,
Pepperidge Farm
,
Philadelphia cream cheese
,
Powdered sugar
,
recipe
,
Ritz crackers
,
Sara Lee
,
Sargento
,
slow cooker
,
Thorn Apple Valley
,
Toll House
,
TruMoo milk
,
tyson
,
vanilla
,
vanilla extract
,
vegetable pasta
,
Vlasic
,
Wesson vegetable oil
,
whipped topping
,
whole chicken pasta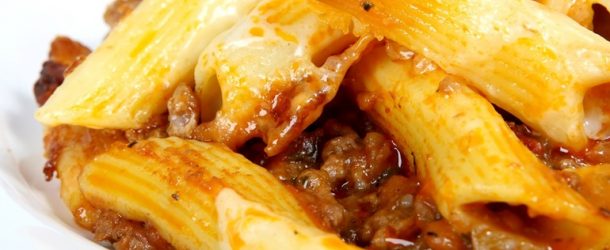 5 Easy Pasta Recipes, #5
Attention, Please! This Baked Pasta Is What You Need In Your Life! Spaghetti with sauce is one of the all-time favorite pasta dishes in our household (and many others, I would assume).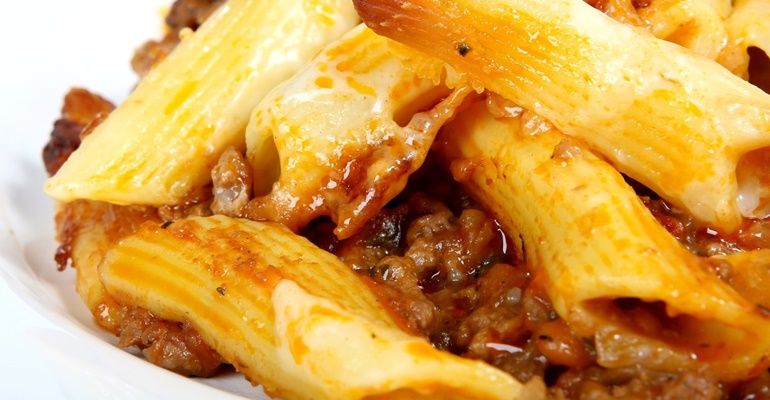 However, sometimes you just don't feel like cooking the same exact meal once a week, even though the kids would be happy eating it.
That's one of the reasons I wanted to give this recipe a try, and I bet we are going to be having this more often than the spaghetti now! Have you tried this yet? Let us know in the comments below, how it turned out for you!
Ingredients
1 lb rigatoni pasta
1 cup parmesan
Filling:
1 (8 oz) container ricotta
1 cup mozzarella
½ cup parmesan
2 Eggland's eggs, beaten
1 tsp parsley
Sauce:
1 tbsp Bertolli olive oil
1 lb ground turkey or ground beef
salt and pepper – use very generously
2 garlic cloves, minced
2 tbsp Italian herbs
1 tsp crushed red pepper
2 (14 oz) cans crushed tomatoes, with juices
1 ½ cups mozzarella, shredded
Instructions:
Preheat oven to 400 F.
Cook the rigatoni in boiling water, about 1 minute less than package directions. Drain then toss with the parmesan cheese in a large bowl.
Lightly oil a 9″ springform pan and pack the rigatoni in tightly, standing on their ends.
to make the filling:
In a medium bowl, mix together the ricotta, mozzarella, parmesan, eggs and parsley until well combined, then set aside.
to make the sauce:
Heat the oil in a large skillet over medium high heat, add the ground turkey or beef and cook until browned.
Season with salt and pepper, then stir in the garlic, Italian herbs, and crushed red pepper. Cook for another minute or two.
Add the crushed tomatoes and simmer over medium heat until most of the liquid has cooked away – about 20 minutes.
While the sauce is cooking, fill the rigatoni with the cheese filling. Use a pastry tube to pipe the filling into the noodles, filling each one about 1/2 full. (if you have a problem getting the mixture through a pastry tube, you can blend it with a hand held blender to make it smooth enough to pass through.)
When the meat sauce is done, ladle it on top of the rigatoni, pushing it down a bit to fill up the remaining space in the noodles.
Bake in the oven for about 15 minutes, then remove and sprinkle over the mozzarella cheese.
Return to the oven and cook for about 15 more minutes, until the cheese is bubbly and beginning to brown.
Let rest about 15 minutes before removing the form and serving.
USE THE RED NEXT PAGE LINK BELOW FOR #4 OF OUR 5 EASY PASTA RECIPES
Quick tip: This is another dish you can prepare in advance and just keep in the fridge until you are ready to bake it.