Argo cornstarch
,
baking powder
,
baking soda
,
barilla pasta
,
Bertolli extra-virgin olive oil
,
black pepper
,
Bob's Red Mill
,
Borden
,
brown sugar
,
Campbell's soups
,
casserole
,
Chiquita
,
Clabber Girl
,
College Inn
,
Cool Whip
,
Corned Beef
,
crock pot
,
Daisy sour cream
,
dessert
,
Dole
,
domino sugar
,
eat
,
Eggland's Best eggs
,
food
,
Gold Medal flour
,
granulated sugar
,
Green Giant
,
Hershey
,
Hodgkin's Mill
,
hungarian bean and beef stew
,
Jell-O
,
Jif peanut butter
,
Johnsonville
,
keebler
,
kosher salt
,
Kraft
,
land o lakes butter
,
Libby
,
McCormick spices
,
Morton salt
,
Pam Cooking Spray
,
Pepperidge Farm
,
Philadelphia cream cheese
,
pot roast
,
Powdered sugar
,
recipe
,
Ritz crackers
,
Salisbury Steak
,
Sara Lee
,
Sargento
,
slow cooker
,
slow cooker swiss steak
,
Thorn Apple Valley
,
Toll House
,
TruMoo milk
,
tyson
,
vanilla
,
vanilla extract
,
Vlasic
,
Wesson vegetable oil
,
whipped topping
5 Old-Fashioned Beef Recipes, #5
This may be a basic pot roast recipe but trust me, there is nothing "basic" about it! When it comes to pot roasts I am always open to suggestions on how I can prepare them. My family loves eating them, especially for Sunday supper.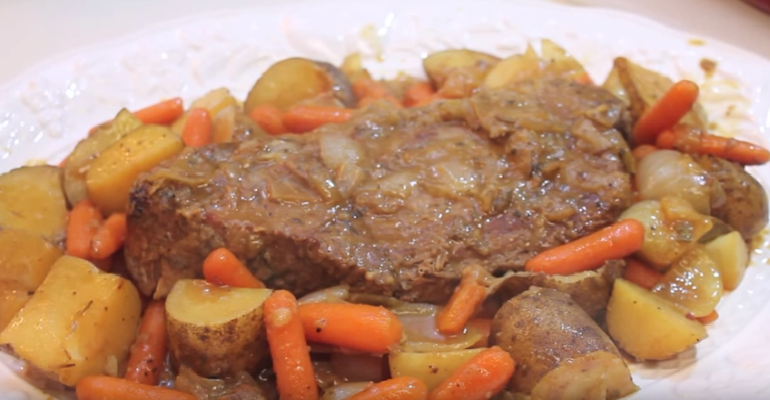 My mother would make pot roasts for us to enjoy after church all of the time and we always looked forward to it.
I found this yummy pot roast over on the I Heart Recipes YouTube channel. It is a simple recipe that renders a tender and juicy hunk of meat that you and your family will LOVE. I served this pot roast with mashed potatoes, gravy, cooked carrots, and dinner rolls. I don't think anyone left any morsels on their plates. In fact, I don't think we had any leftovers at all!
Ingredients
4 lbs beef bottom roast
1/4 cup Gold Medal all-purpose flour PLUS 2 tbsp
1 tsp Morton salt
1/2 tsp ground black pepper
2 tsp McCormick garlic powder
1 tsp crush basil
1 tsp rosemary leaves
1 tsp onion powder
2 tsp celery flakes
32 oz chicken or beef broth whatever is your preference
2 tbsp Wesson vegetable oil
4 medium russet potatoes washed and chopped
1 cup baby carrots washed & peeled
2 medium sized onion chopped
Instructions
Preheat the oven to 300 F.
Pat dry the roast, then set is to the side.
Combine all of the seasonings, and mix it with 1/4 cup of all purpose flour.
Once the flour and seasonings are combined, coat the roast with seasoned flour.
Pour 2 tbsp of vegetable oil into a dutch oven, then place the dutch oven over medium heat.
Once the oil is hot, put the roast into the dutch oven.
Brown all surfaces and sides of the roast, then remove the roast from the dutch oven.
Add one of the onions ( chopped of course) into the dutch oven, and fry until it's translucent.
Place the roast back into the dutch oven, but make sure it is on top of the onions.
Pour in the chicken or beef broth, then cover the pot with the lid.
Place the roast in the oven, and let cook for 2 1/2 hours ( CROCKPIT DIRECTIONS BELOW)
Remove the meat from the oven, and baste. Cover and place back into the oven for 1 hour.
Remove the roast from the oven.
Scoop up about 1 cup of the broth from the pot, and place it into a cup or bowl.
Sprinkle in 2 tbsp of all-purpose flour into the cup of broth, and mix until well incorporated.
Pour the broth, and flour mixture into the pot.
Add in the carrots, potatoes, and remaining onions.
Cover the dutch oven, and put the roast bake in the oven for another hour.
Remove for the oven, and let sit for 5 minutes.
Serve.
Check out this video on how to make this glorious pot roast by I Heart recipes:
USE THE RED NEXT PAGE LINK BELOW FOR #4 OF THE 5 OLD-FASHIONED BEEF RECIPES
Quick Tip: Serve this roast with all the fixins' like mashed potatoes, fresh rolls, and a side salad.
Recipe and image courtesy of I Heart Recipes and YouTube.