Argo cornstarch
,
Arm & Hammer baking soda
,
baking powder
,
barilla pasta
,
Bertolli extra-virgin olive oil
,
black pepper
,
Bob's Red Mill
,
Clabber Girl
,
College Inn
,
Cool Whip
,
domino brown sugar
,
domino sugar
,
eat
,
Eggland's Best eggs
,
food
,
Gold Medal flour
,
granulated sugar
,
Green Giant
,
Hershey
,
Jell-O
,
Jif peanut butter
,
Johnsonville
,
kosher salt
,
Kraft
,
Kraft whipped topping
,
land o lakes butter
,
McCormick spices
,
Morton salt
,
Nilla wafers
,
Oak Farms milk
,
Pam Cooking Spray
,
Pepperidge Farm
,
Philadelphia cream cheese
,
Powdered sugar
,
recipe
,
Sargento
,
Thorn Apple Valley
,
Toll House
,
TruMoo milk
,
tyson
,
vanilla
,
vanilla extract
,
Vlasic
,
Wesson vegetable oil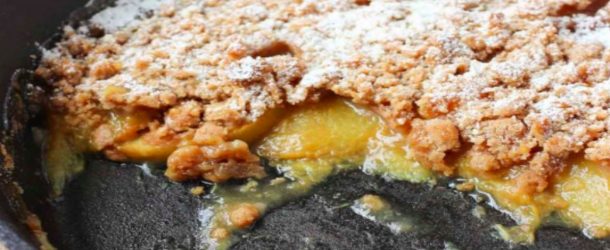 The Easiest And Tastiest Dessert Ever Known To Man
A friend of mine once told me the crumbles are her favorite dessert, because they mix smooth textures with crunchy textures.  I like to think that crumbles are one of my favorite desserts too, except for me it's because the crumble works so nicely under a scoop of creamy, decadent vanilla ice cream.
Which goes to show, in a fun way, that we can be different but still understand each other perfectly, right? Haha! Whatever your reason to love crumbles is, it's the right one. If you've never made a crumble before, now is the perfect time to start because this recipe has only 6 ingredients.  For that reason, it's totally unintimidating to dive right into making this recipe on any day of the week.  And I am not just saying that!
It's simple to put together, and so fast to whip up, you'll be able to make it on a weeknight… and still have energy at the end of the day to clean up the kitchen dishes (you know, that ONE pan that the crumble went in.)  Totally worth it, right? My whole family certainly think so! Especially when I serve this with that ice cream I was talking about!
Recipe and photo courtesy of My Sequined Life.
USE THE RED NEXT PAGE LINK BELOW FOR THE RECIPE AND INGREDIENTS.
Quick Tip: Peel peaches easily by adding them for about 30 seconds to a boiling pot of water.