apple pie
,
Argo cornstarch
,
baking powder
,
baking soda
,
barilla pasta
,
Bertolli extra-virgin olive oil
,
black pepper
,
Bob's Red Mill
,
Borden
,
brown sugar
,
Campbell's soups
,
casserole
,
Cherry Pie
,
Chiquita
,
Clabber Girl
,
College Inn
,
Cool Whip
,
crock pot
,
Daisy sour cream
,
dessert
,
Dole
,
domino sugar
,
eat
,
Eggland's Best eggs
,
food
,
Game Day Recipes
,
Gold Medal flour
,
granulated sugar
,
Green Giant
,
Hershey
,
Hodgkin's Mill
,
Jell-O
,
Jif peanut butter
,
Johnsonville
,
keebler
,
kosher salt
,
Kraft
,
land o lakes butter
,
Libby
,
McCormick spices
,
Mini Pies
,
Morton salt
,
Pam Cooking Spray
,
Pepperidge Farm
,
Philadelphia cream cheese
,
Powdered sugar
,
recipe
,
Ree Drummond
,
Ritz crackers
,
Sara Lee
,
Sargento
,
slow cooker
,
Thorn Apple Valley
,
Toll House
,
TruMoo milk
,
tyson
,
vanilla
,
vanilla extract
,
Vlasic
,
Wesson vegetable oil
,
whipped topping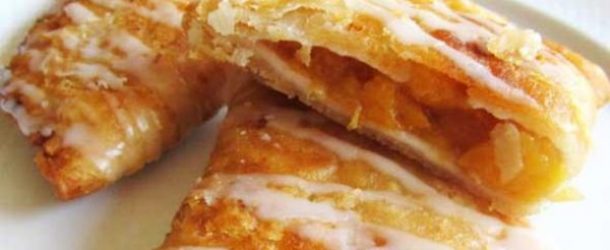 This recipe has been a great success over at Food Network, and I'm not surprised by that at all! It's such an easy way to make delicious pies – and you can even use the same recipe to make savory pies instead of sweet ones! Just leave the sugar out of the pastry and use whatever fillings you like; cheese, ham, bacon… it's up to you!
Let's take a look at what readers have said about this fried pie recipe:
Great recipe lady's, and so easy to make. I cut the recipe in half cause it's only the two of us, then I take half of the dough cut that in half after I made the dough and freeze half for another day

I just made these using my gluten free flour mix. They turned out tasty and the dough was nice to work with.
That's a great tip for all of you who prefer gluten-free baking!
Ingredients
6 cups Gold Medal all-purpose flour
4 tablespoons granulated sugar
1/2 teaspoon salt
1 cup shortening, plus more for frying
2 eggs, beaten
2 cups buttermilk, more if needed
Apple pie filling, canned
Cherry pie filling, canned
Powdered sugar, for sprinkling
Instructions:
Combine the flour, granulated sugar and salt. Cut in 1 cup of the shortening until the mixture resembles coarse crumbs. Add 1 egg and the buttermilk, stir until it just comes together. If needed, add a little more buttermilk. Form into a ball and refrigerate for at least an hour.
When ready to bake, roll the pastry out into a large square. Trim the edges to make a rectangle. Cut into 8 to 10 long rectangles.
Spoon a tablespoon of filling into the top half of one of the rectangles.
Use the remaining beaten eggs to seal the edges by folding the bottom half of the rectangle over the top. Then crimp the edges shut with a fork. Repeat with the other pies, using your favorite pie fillings.
Heat shortening in a deep saucepan over medium-high heat to 350 degrees. Fry the pies until golden brown, 2 to 3 minutes per side. Remove and immediately drain on paper towels.
Sprinkle with powdered sugar or drizzle with sugar glaze.
USE RED NEXT PAGE LINK BELOW.
Quick tip: These little nuggets of deliciousness, can be generally filled with just about anything.  If cherry isn't your forte, than you can always try apple, pear, pecan, or anything your imagination dictates.
Thanks to Food Network for these little delectable pies of delight!