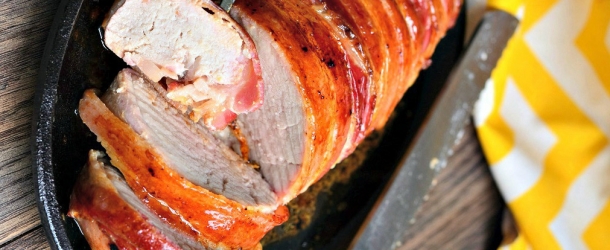 This amazing Bacon-Wrapped Dijon Pork Tenderloin takes a bunch of classic flavors and combines them in a way that really works wonders!
I love pork, and I am always looking for new and creative ways to make it taste different for my family. I have done Dijon pork tenderloins; I have done bacon-wrapped pork tenderloin; and I have done garlic pork tenderloins. But this was my first time to combine all three flavors into a bacon-wrapped garlic Dijon pork tenderloin.
I thought it turned out extremely well and was easy to prepare!  Why didn't I think of this combination before? This is so delicious and definitely worth to try. It's sure to be a family favorite.
Original Recipe Will Cook for Smiles
USE THE RED NEXT PAGE LINK BELOW FOR THE RECIPE AND INGREDIENTS
Quick Tip: Reheat leftovers in a saute pan over medium heat.