baking powder
,
baking soda
,
Bertolli extra-virgin olive oil
,
black pepper
,
Bob's Red Mill
,
Cilantro
,
Clabber Girl
,
domino sugar
,
eat
,
Eggland's Best eggs
,
food
,
Gold Medal flour
,
green onion
,
Johnsonville
,
kosher salt
,
Kraft
,
land o lakes butter
,
lettuce
,
McCormick spices
,
Mexican chicken casserole
,
Mexican-style cheese blend
,
Morton salt
,
Old El Paso enchilada sauce
,
recipe
,
red bell pepper
,
Shredded Cheese
,
tomato
,
TruMoo milk
,
Tyson chicken breast
,
Wesson vegetable oil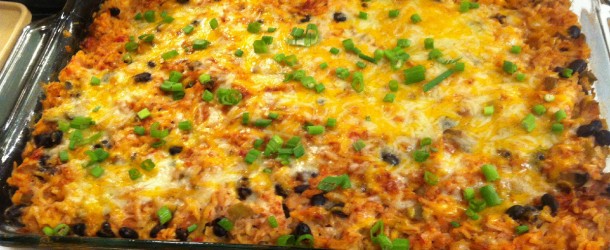 I love eating Mexican food as it's one of my favorite cuisines. Tacos, enchiladas, and tortillas seriously make my world go 'round. So, you can imagine my delight when I stumbled upon this amazing Mexican casserole. It has everything in it that a burrito-loving gal, such as myself, could ever want in a baking dish.
Enchilada sauce enraptures spicy chicken breast, black beans, salsa, and savory herbs in this one-dish supper. Your family will be doing backflips all the way to the table. This casserole serves 4-6 people so I always make a double batch for my brood of 5 (we're big eaters). The recipe calls for Mexican shredded cheese but I've used sharp cheddar before and it turned out just fine.
Recipe courtesy of 77recipes.
PLEASE CONTINUE TO THE NEXT PAGE FOR A LIST OF INGREDIENTS.
Quick Tip: Serve this casserole with sour cream and salsa.