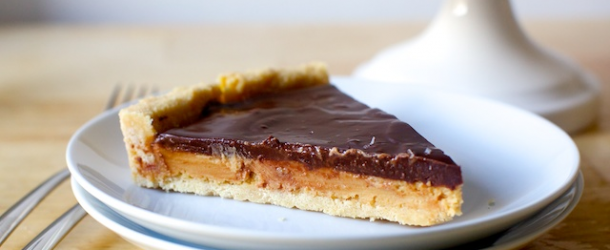 Who doesn't love peanut butter and chocolate? It's a classic dessert combination that never gets old. The silky smooth and slightly salty peanut butter combines perfectly with the rich and sweet chocolate. This tart has buttery and tender shortbread cookies as the crust. It's topped with rich and creamy peanut butter and then a chocolate ganache that is just decadent. It's rich, but oh so delicious.
In fact, this recipe is inspired by the Girl Scout cookies Tagalongs. The best part about making this tart instead of the cookies is that you can have it any time of the year – no need to conserve those precious Girl Scout cookies so they last as long as possible. You can also make this the way you like it. If you like your chocolate a little darker, mix half dark chocolate chips in.
No matter what, you can't go wrong with this absolutely delicious peanut butter and chocolate tart.
Photo & Recipe Courtesy of Smitten Kitchen
PLEASE VISIT THE NEXT PAGE FOR A LIST OF INGREDIENTS.