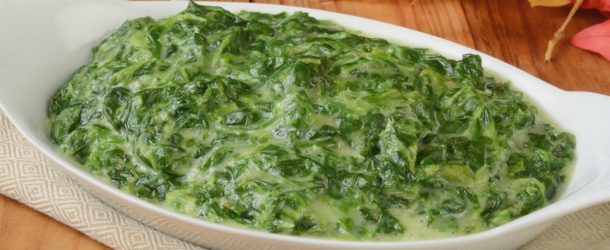 Ok….so sometimes this dark green isn't everyone's favorite, but when cooked right, and creamed to perfection, it's not only incredibly delicious, but packed full of super proteins.
After all, Popeye couldn't have done it without it tasting good at some point, right?
This creamy concoction is good all year round, and I promise you the kids will love it.  I know mine did.
Even though my house was filled with "ews" at the idea….it was only filled with "mmmmm's" at the end.
Trust me on this one, write this recipe down!
This side dish is not only creamy, it's cheesy and thick too
It will make "eating your veggies," a joy, rather than a task.  
This recipe serves about 6 and is ready in a few hours time.
This is the type of side dish anyone can love!
Recipe and photo courtesy of 12 Tomatoes
GO TO THE NEXT PAGE FOR INGREDIENTS, DIRECTIONS & FURTHER COMMENTS