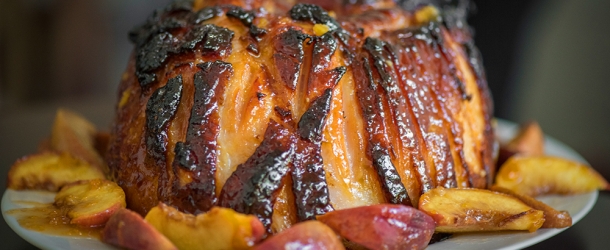 Peach.  Wine.  Ham.  Come on!  This sounds like a date made in heaven!
With a caramelized, crispy outer shell, you'd be hard pressed to find another dinner so delectable!
Not only that, not everyone in my family likes ham, so I try to find outrageous recipes to change their mind.
Let me tell you, this one was truly the star of the evening!
Since I'm an Irish girl I served mine with a side of cabbage and boiled potatoes.
Of course that could be boring, so feel free to serve with any side of your choice.
Don't forget those poppin' fresh, warm rolls, though.  They always go good with ham.
This recipe takes about 2 hours form start to finish to make and serves up to 8 people, and makes for great leftovers!
My husband added a little bit of bacon to the top one year, and it was phenomenal.
Prepare to have your kitchen brimming with sweet scents of home.
Our friends at 12Tomatoes had this to say about this recipe:
"We combined a nice, dry riesling with sweet peach preserves in a delightful reduction that perfectly compliments the salty and savory ham. The glaze only takes a few minutes to whip up, which means less time in the kitchen and more time spent with family. We make this easy, springtime dish every Easter, and we bet you will too!"
Recipe and photo courtesy of 12 Tomatoes
GO TO THE NEXT PAGE FOR INGREDIENTS, DIRECTIONS & FURTHER COMMENTS