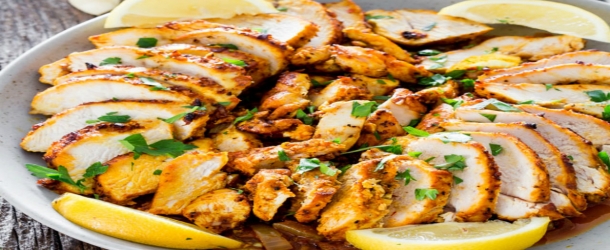 When it comes to trying new things, I'm sort of a stickler. I mean, let's face it, we cook what works for our families, right? But, do you ever get tired of the same old meals each month? I know that I needed a recipe to get me out of this food slump I found myself in. That's when I discovered Oven Roasted Chicken Shawarma. At first, I was intimidated because this type of food is totally restaurant quality, and although I'm a pretty good cook, I ain't no chef, sister.
Much to my surprise, this recipe was super simple to make, and it tastes absolutely divine. When I plated up the food, the aroma alone was jumping off our plates. Needless to say, this chicken dish is a major hit in my household. I'll definitely be making it again! Are you ready to whip up a batch of your own? Follow me…
Recipe and photo courtesy of Jo Cooks.
PLEASE VISIT THE NEXT PAGE FOR A LIST OF INGREDIENTS.