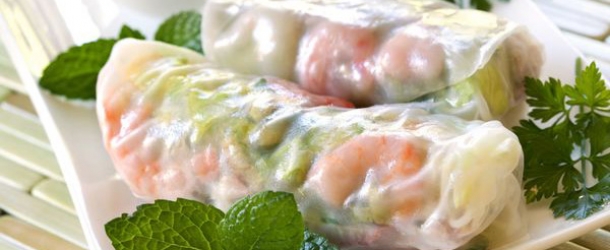 Holler if you like Asian food! I certainly do and I have always wished we had an Asian restaurant in my town. But since that hasn't happened so far, I had to find a way to make something Asian myself – something that would look as pretty as it tastes! I never really thought about how easy summer rolls are to make until trying this recipe.
Summer rolls are something I always order when I go to Thai or Vietnamese restaurants, but I never thought of doing them myself. It must be that Asian mysteriousness, but once you try these you will be making them all the time.
Not only are they exotic and delicious but they are super healthy and very easy to prepare so you have the best of both worlds. This recipe immediately became one of my all time favorites!
Original Recipe 12tomatoes
USE THE RED NEXT PAGE LINK BELOW FOR THE RECIPE AND INGREDIENTS
Quick Tip: These will be done in no time, so if you keep the ingredients at hand you can always serve these to surprise dinner guests!