carrots
,
chicken noodle salad
,
Clabber Girl
,
cucumber
,
Daisy
,
dinner
,
Dole
,
Dynasty bean thread noodles
,
eat
,
egglands best
,
food
,
ginger
,
Gold Medal
,
Heinz 57 sweet chili sauce
,
Hellman
,
Kikkoman soy sauce
,
Kraft
,
Land O Lakes
,
lunch
,
McCormick
,
Morton
,
Planters peanut oil
,
recipe
,
Sesame Seeds
,
TruMoo
,
Tyson chicken breast
,
Wesson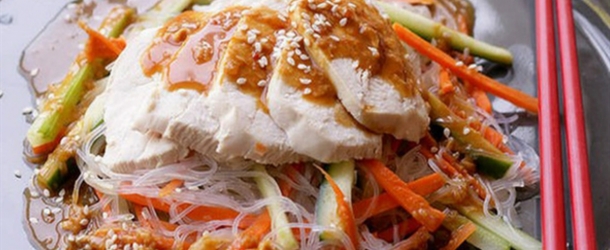 Are you looking for a way to spice up your lunch? Try chicken and noodle salad! This zesty dish has all the flavors that make food wonderful. Ginger and sesame seeds are just a few of the savory spices in the mix. We know you're going to love this recipe because it tastes great and it's super easy to make! That's right, it's insanely easy to throw together for a midday meal.
I like to prepare this recipe when I'm expecting lunch guests. It always goes over well because it's not too heavy but not so light that you leave feeling hungry. Chicken and noodle salad goes well with a large pitcher of fruit-infused water or lemonade. Serve fruit bowls for dessert with a dollop of Cool Whip for a healthy noon meal!
Recipe and photo courtesy of Over Sixty.
PLEASE VISIT THE NEXT PAGE FOR A LIST OF INGREDIENTS.