baking powder
,
baking soda
,
Bertolli extra-virgin olive oil
,
black pepper
,
Bob's Red Mill
,
Clabber Girl
,
College Inn chicken broth
,
Daisy sour cream
,
domino sugar
,
eat
,
Eggland's Best eggs
,
food
,
funeral potatoes
,
Gold Medal flour
,
Johnsonville
,
kettle-cooked potato chips
,
kosher salt
,
Kraft
,
land o lakes butter
,
McCormick spices
,
Montery Jack cheese
,
Morton salt
,
oinion
,
Ore-Ida hash browns
,
Pam Cooking Spray
,
parmesan
,
recipe
,
sharp cheddar
,
TruMoo milk
,
Wesson vegetable oil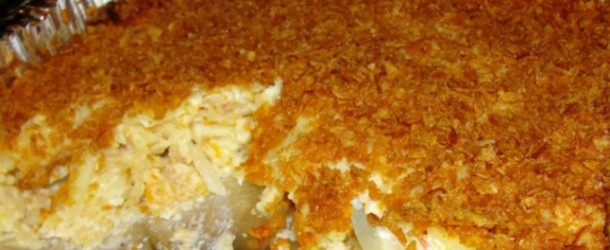 You might be turning your nose up at the name of these potatoes, but we assure you, you're going to love them! This awesome dish got its name from being a staple casserole served at Mormon funeral gatherings. However, these potatoes are definitely the life of the party.
I'll admit, I make them for a variety of occasions, not just funerals, and you should too! What makes them, so savory is the creamy ingredients that coat them such as cheese, chicken broth, and butter. And guess what? They are topped with crunchy kettle-cooked potato chips! My whole family loves it when I make this side dish, but we prefer to call it "Party Potatoes."
If I could go back in time and marry my husband again, I might even serve these at the reception! And I bet everyone would love them!
Recipe courtesy of Ree Drummond at Food Network.
USE THE RED NEXT PAGE LINK BELOW FOR THE RECIPE AND INGREDIENTS
Quick Tip: You don't have to use potato chips as the topping if you don't want to. Substitute with french fried onions, cornflakes, or crushed crackers.