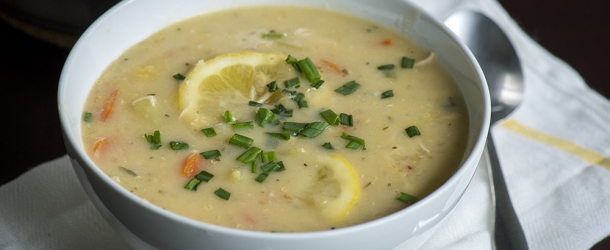 Imagine a dish so quick and so easy, but whisks you away to the Greek Isles, in flavor?
Not only is it savory and tangy, it's also incredibly light!
So you don't have to worry about cheating on that New Year's diet!
Although this soup is robust with ingredients, every single last one seems to dance like magic on your tongue.
I personally love making this soup at home, when the kids come to visit.
Everyone sits around the table, speaking in silly Greek accents, and it reminds me of home!
This recipe takes about 45 minutes to make and serves up to 8 people, so there is absolutely plenty to go around!
I always serve it with a side of fresh crusty bread, but it truly is a meal all in itself.  It also keeps really well, so why not double down on the recipe?
And have no fear about cooking Quinoa!
If you aren't familair with Quinoa, the folks over at 12Tomatoes will tell you:
"If you haven't tried quinoa before, think of it as rice's healthier, more mature cousin – it's packed with protein and fiber, and has a slightly nutty flavor, making it one of our all-time favorite health foods. Quinoa also cooks up quicker than rice, making this soup a perfect weeknight dinner option."
Recipe and photo courtesy of 12 Tomatoes
GO TO THE NEXT PAGE FOR INGREDIENTS, DIRECTIONS & FURTHER COMMENTS