banana pudding
,
bananas
,
Clabber Girl baking powder
,
Cool Whip
,
Country Fresh heavy whipping cream
,
dessert
,
Dole
,
domino sugar
,
eat
,
Eggland's Best eggs
,
food
,
Gold Medal all-purpose flour
,
granulated sugar
,
McCormick
,
Morton salt
,
Nabisco vanilla wafers
,
Powdered sugar
,
pudding
,
recipe
,
TruMoo whole milk
,
vanilla
,
whipped topping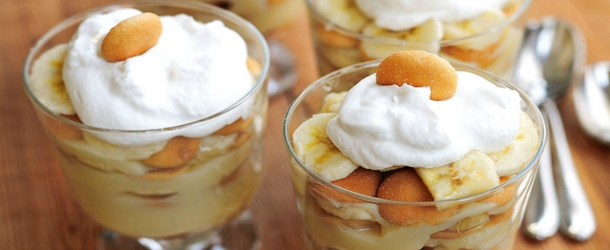 Rich, creamy, smooth, and simply delightful, banana pudding is a family classic at our homestead. Whenever we announce that there will be "nanner puddin" served after dinner, you can bet your bottom dollar that the kiddos inhale their veggies like nobody's business. This recipe creates such a velvety texture of sweet pudding and bananas topped with Cool Whip whipped topping. Don't forget the crunchy Nabisco Nilla Wafers…mmmm!
Nosh on this dessert after dinner, as a snack, or make it for a party. It was a major hit at our son's fourth birthday extravaganza. Honestly, I think the kids wolfed down the BP more than the ice cream and cake! I had to make sure to hide a serving for my husband and myself. For real, this banana pudding recipe is THAT good!
Recipe and photo courtesy of She Wears Many Hats.
PLEASE VISIT THE NEXT PAGE FOR A LIST OF INGREDIENTS.