baking powder
,
baking soda
,
Bertolli extra-virgin olive oil
,
black pepper
,
Bob's Red Mill
,
Clabber Girl
,
dessert
,
domino sugar
,
eat
,
Eggland's Best eggs
,
food
,
Gold Medal flour
,
Johnsonville
,
kosher salt
,
Kraft
,
land o lakes butter
,
lemon bars
,
McCormick spices
,
Morton salt
,
recipe
,
TruMoo milk
,
Wesson vegetable oil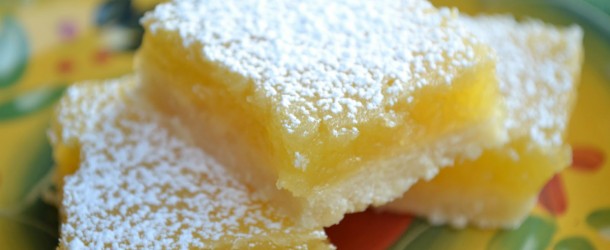 We're in the throws of spring (although some parts of the country don't feel like it), and summer is fast approaching. It's time to start baking up some sweet, sunny treats like these fabulous lemon bars. I love the way lemon desserts taste and how they make me feel. It's like a burst of summer sunshine on your tongue.
I don't know about you, but a layer of rich and smooth lemon filling resting atop a flaky crumb crust is the cat's meow. Don't forget about the dusting of powdered sugar. It's always a good sign when your lips are coated in powdered sugar after eating these lemon bars because it means you really enjoyed yourself!
Recipe courtesy of The Pioneer Woman.
PLEASE CONTINUE TO THE NEXT PAGE FOR A LIST OF INGREDIENTS.
Quick Tip: This recipe is super easy to double when feeding a large crowd.