4C panko bread crumbs
,
bacon double cheeseburger meatloaf
,
cheese-stuffed meatloaf
,
cheeseburger meatloaf
,
domino brown sugar
,
Eggland's Best eggs
,
Heinz ketchup
,
Laura's 93% lean beef
,
Lea & Perrins Worcestershire Sauce
,
Lea and Perrins Worcestershire sauce
,
meatloaf
,
milk
,
Montreal Steak seasoning
,
oscar mayer bacon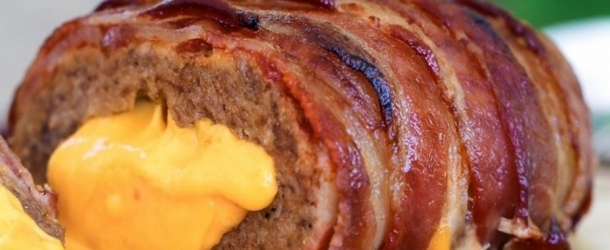 Sometimes you just need to indulge a little. When that bacon cheeseburger craving hits and you don't feel up to forming all those patties, this bacon double cheeseburger meatloaf comes to your rescue!
If you are a cheese and bacon lover like myself, your mouth will begin to water just looking at this picture. All the components of your burger in one easy to make dinner. To top it all off, that brown sugar ketchup glaze has that lovely sweet and salty combination you can't resist. Your family will thank you when you deliver this to the family table!
Image courtesy of The Slow Roasted Italian
GO TO THE NEXT PAGE FOR INGREDIENTS, DIRECTIONS & FURTHER COMMENTS