breakfast
,
breakfast ideas
,
breakfast quesadilla
,
Eggland's Best eggs
,
Great value shredded cheese
,
Hormel bacon bits
,
Kraft shredded cheese
,
Land of Lakes
,
milk
,
Mission tortillas
,
protein packed breakfast
,
quesadilla
,
quesadilla maker
,
Sargento shredded cheese
,
south of the border
,
tortillas
,
walmart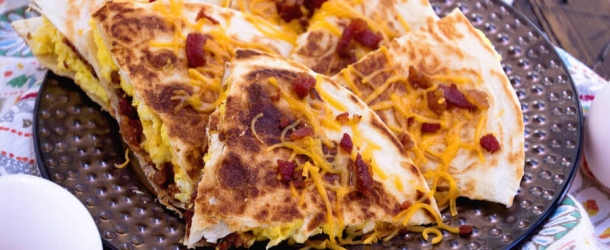 We've all had a good chicken and cheese quesadilla at least once in our lives, and boy are they good! How about stuffing your tortilla with bacon, egg, and cheese? Now THAT is something to try!
Why haven't I ever thought of this before!? I'm sure you've had breakfast burritos before, but a breakfast quesadilla? Yup, I'm making this ASAP! No need for a quesadilla maker, you can make these right in a frying pan. Top these with some salsa and you are in for one delicious morning meal.
Image courtesy of Julie's Eats & Treats
GO TO THE NEXT PAGE FOR INGREDIENTS, DIRECTIONS & FURTHER COMMENTS