baked
,
barilla spaghetti
,
basil
,
Bertolli Olive Oil
,
cheddar
,
Daisy sour cream
,
dinner
,
eat
,
Eggland's Best eggs
,
food
,
Jiff
,
Johnsonville
,
Kraft shredded cheese
,
land o lakes butter
,
McCormick spices
,
Morton salt
,
mozzarella
,
onion
,
Oregano
,
Parsley
,
Philadelphia cream cheese
,
recipe
,
spaghetti bake
,
TruMoo milk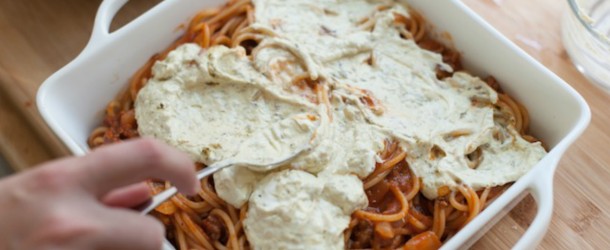 You've never tasted spaghetti until you've tasted spaghetti mixed with a rich creamy cheese sauce and baked until a fine level of perfection has been reached. This recipe combines everything you love about the classic Italian meal and so much more. We aren't kidding, you won't be able to put your fork down!
I find spaghetti cream cheese bake to be easier to make and much less of a mess than traditional spaghetti and meatballs. There are less pans to clean as everything you need eventually ends up in one baking dish. Savor the scents of pasta, fresh tomato sauce, and zesty spices wafting through your house as this amazing entree bakes. When I make this dish for my family, I can hardly contain myself until dinner time.
Recipe courtesy of Damn Delicious.
PLEASE VISIT THE NEXT PAGE FOR A LIST OF INGREDIENTS.
Quick Tip: Before preparing this casserole, liberally spray your baking dish with Pam to avoid sticking.