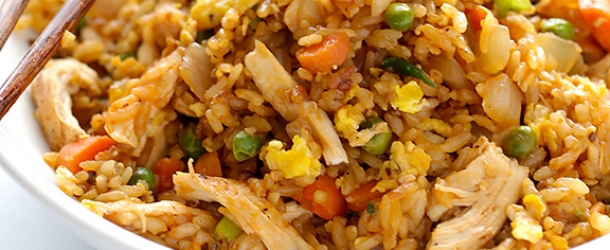 Are you in love with Chinese food? I know I am! It's a bittersweet thing that there is no Chinese restaurant in my home town. I would be a regular customer, but I know it might also break the bank – I would probably go there every single day…
One of my favorite things about Chinese food is the fried rice, I think this is the case with a lot of people. Sometimes I will order just the chicken fried rice for my entree. This spicy chicken fried rice recipe really hits the mark and is just as good as any that I have had out. And since it's so easy to cook, I can have my favorite dish any time I want!
Let us know how yours turns out and please share in the comments below if you've decided to alter the recipe and you come up with an extra special delicious version of your own!
Original Recipe givemesomeoven
USE THE RED NEXT PAGE LINK BELOW FOR THE RECIPE AND INGREDIENTS
Quick Tip: I have used leftovers of this dish as fillings for tasty tortillas!