Baker's Angel Flake coconut
,
baking powder
,
baking soda
,
Bertolli extra-virgin olive oil
,
black pepper
,
Bob's Red Mill
,
Clabber Girl
,
coconut cream pie
,
Cool Whip
,
dessert
,
domino sugar
,
easy
,
eat
,
Eggland's Best eggs
,
food
,
Gold Medal flour
,
Jell-O vanilla instant pudding
,
Johnsonville
,
Keebler graham cracker crust
,
kosher salt
,
Kraft
,
land o lakes butter
,
McCormick spices
,
Morton salt
,
recipe
,
TruMoo milk
,
Wesson vegetable oil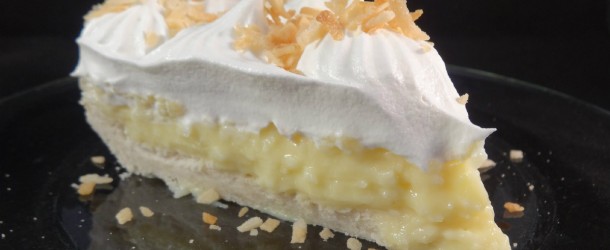 Smooth, creamy, velvety coconut cream pie is one of my ultimate favorite desserts. The taste of the tropical islands mixed with whipped topping? Yes, please! This is truly a dessert to cheat on your diet with because it is so worth the extra calories. It's also very easy to make.
This pie totally looks like a special occasion treat, but once you take your first bite, you'll be making it at least once a month for an after dinner dessert. Coconut cream pie makes a wonderful spring or summertime dessert because it needs to chill in the refrigerator for a bit before eating. Once done, you're left with a thick-set slab of sweet coconutty goodness that's just the right temperature on a warm day.
Recipe courtesy of Afternoon Baking With Grandma and Kraft.
PLEASE CONTINUE TO THE NEXT PAGE FOR A LIST OF INGREDIENTS.
Quick Tip: Sprinkle the top of this delightful pie with toasted coconut to add a bit of texture.