baking powder
,
baking soda
,
Bertolli extra-virgin olive oil
,
black pepper
,
Bob's Red Mill
,
canola oil
,
cheddar cheese
,
Clabber Girl
,
Daisy sour cream
,
domino sugar
,
eat
,
Eggland's Best eggs
,
food
,
garlic
,
Gold Medal flour
,
green onions
,
Hormel bacon bits
,
Johnsonville
,
kosher salt
,
Kraft
,
land o lakes butter
,
McCormick spices
,
Morton salt
,
Philadelphia cream cheese
,
recipe
,
russet potatoes
,
Thorn Apple Valley bacon
,
TruMoo milk
,
twice-baked potato casserole
,
Wesson
,
Wesson vegetable oil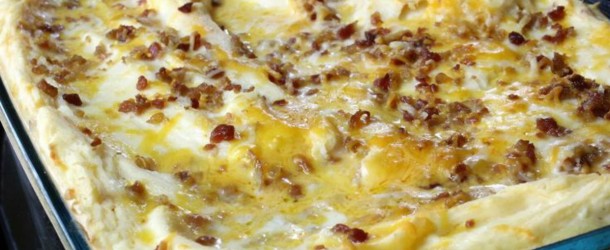 is that they are even better when you twice bake them into a savory casserole filled with cheese, bacon, and garlic! So, yesterday I was thumbing through one of my old cookbooks and came across a recipe called twice baked mashed potatoes. After reading the ingredients list and method, I was sold!
I found another recipe online at Foodie Tale that incorporated garlic (one of my stinky lovers) and I knew I had to bake up this to-good-to-be-true casserole. My family absolutely loved this mashed potato bake and gobbled it down like a pack of hungry wolves. Speaking of which, my dog kept sniffing around the table hoping and "pawing" that'd we'd give him a taste. He's such a sweet dog and definitely knows good food when he smells it.
Recipe courtesy of Foodie Tale.
PLEASE CONTINUE TO THE NEXT PAGE FOR A LIST OF INGREDIENTS.
Quick Tip: This casserole makes a great companion for any meat entree such as meatloaf or BBQed chicken.