almond extract
,
baking powder
,
baking soda
,
Bertolli extra-virgin olive oil
,
black pepper
,
Bob's Red Mill
,
bundt cake
,
champagne
,
Clabber Girl
,
cranberry orange
,
domino sugar
,
eat
,
Eggland's Best eggs
,
food
,
Gold Medal flour
,
granulated sugar
,
hershey white chocolate chips
,
Johnsonville
,
kosher salt
,
Kraft
,
land o lakes butter
,
McCormick spices
,
Morton salt
,
ocean spray sweetened cranberries
,
orange cranberry bundt cake
,
Orange zest
,
powdered suagr
,
recipe
,
shortening
,
TruMoo milk
,
unsalted butter
,
Wesson vegetable oil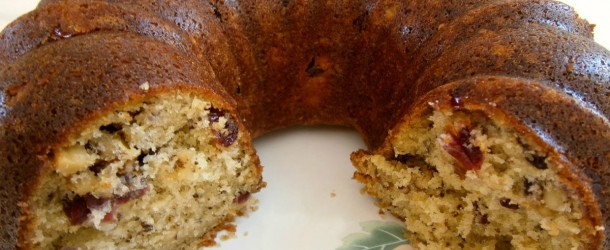 There's no question about it. This is the best Bundt to ever grace my plate.
So, Better Homes and Gardens had a baking contest, right? Well, this shiny little penny of a Bundt cake won! I can see why it took home the gold. It's moist, flavorful, and a sight for sore eyes. Most importantly, it's super easy to whip up on a rainy day.
I decided to dust off my trusty Bundt pan and give this recipe a go. Man, am I glad that I did! I fell in love with the orange cranberry goodness in just one bite. I offered a piece to my elderly neighbor lady, and she said that it reminded her of the Bundt cake her mom used to make. Isn't that sweet?
Recipe courtesy of Better Homes and Gardens.
USE THE RED NEXT PAGE LINK BELOW FOR THE RECIPE AND INGREDIENTS.
Quick Tip: For a pretty presentation, fill the center of this Bundt cake with sugared cranberries. This works well during the holidays and can serve as an edible centerpiece!