baking powder
,
baking soda
,
Bertolli extra-virgin olive oil
,
black pepper
,
Bob's Red Mill
,
chocolate chips
,
Clabber Girl
,
domino sugar
,
eat
,
Eggland's Best eggs
,
Folgers coffee
,
food
,
Gold Medal flour
,
Hershey unsweetened cocoa powder
,
Jif peanut butter
,
Johnsonville
,
kosher salt
,
Kraft
,
land o lakes butter
,
McCormick spices
,
Morton salt
,
peanut butter cup cake roll
,
recipe
,
Reese's peanut butter cups
,
TruMoo milk
,
vanilla extract
,
Wesson vegetable oil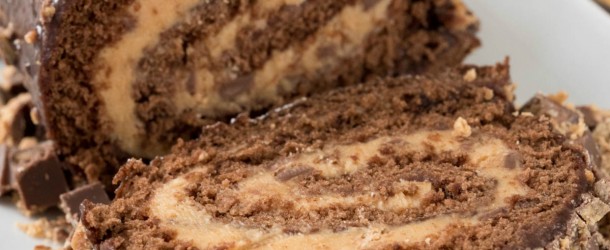 Wow. We can't say enough good about this lip-smacking, finger-licking, decadent cake roll. Creamy peanut butter and rich chocolate enveloped in a moist cake sound like our kind of dessert! And guess what? You don't have to be The Cake Boss to make this masterpiece!
Check out what our friends at Crazy For Crust had to say about how easy this cake roll is to make:
"I promise you, cake rolling is easy. The recipe is a little time intensive, just because of all the cooling and waiting, but the recipe itself is EASY. You can make the cake batter with a hand mixer and one bowl, and the same goes for the filling. The only thing special you need for this recipe is the right pan."
Recipe and photo courtesy of Crazy For Crust.
CONTINUE TO THE NEXT PAGE FOR A LIST OF INGREDIENTS.
Quick Tip: Use a jelly roll pan to make making this cake roll much easier.