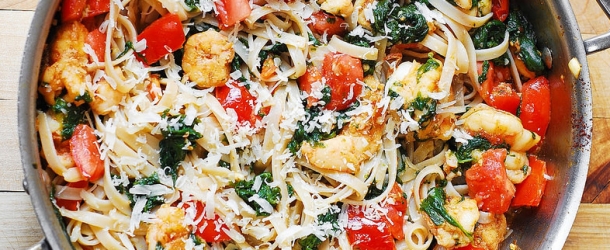 Are you getting a little tired of your favorite pasta recipe? I know it's your favorite for a reason, but sometimes you just need a little change. That's what I was thinking when I first stumbled upon this recipe.
It turns out, I now have a new favorite! This dish has a very complex and fresh flavor that makes your taste buds go "Can we please have some more!" This pasta with shrimp, fresh tomato and spinach really comes out like a restaurant quality entree.
You will surely be a hit with your family or with your friends at your next dinner party! The vibrant colors of this dish really set it apart from your normal pasta dishes.
Original recipe juliasalbum
USE THE RED NEXT PAGE LINK BELOW FOR THE RECIPE AND INGREDIENTS
Quick Tip: Instead of fettucine, you can use your favorite pasta.