baking powder
,
baking soda
,
basil leaves
,
Bertolli extra-virgin olive oil. lasagna bread
,
Bob's Red Mill durum wheat semolina flour
,
Clabber Girl
,
domino sugar
,
eat
,
Eggland's Best eggs
,
food
,
garlic clove
,
Gold Medal flour
,
ground black pepper
,
Heinz peeled canned tomatoes
,
Johnsonville
,
kosher salt
,
Kraft
,
land o lakes butter
,
leftovers
,
McCormick spices
,
Morton salt
,
Murray's caciocavallo cheese
,
recipe
,
Red Star dry active yeast
,
TruMoo milk
,
Wesson vegetable oil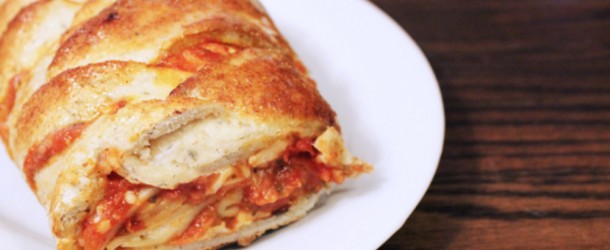 So, you've got a half pan of lasagna leftover from last night's dinner. You're scratching your head in wonderment, trying to figure out what to do with this day old meal. You don't want to waste the food, but your family never eats leftovers.
The answer to your dilemma lies within this recipe. You make lasagna bread! "Say, what?!" Yep, you read that right, leftover lasagna bread. The best thing about this recipe is that you can get your family to eat leftovers because you are essentially creating a "new" meal. Genius!
Recipe courtesy of Saveur.
PLEASE VISIT THE FOLLOWING PAGE FOR A LIST OF INGREDIENTS.
Quick Tip: Add butter and parmesan cheese to the top of this bread once it comes out of the oven.