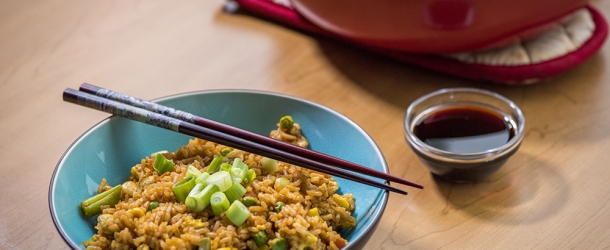 Sometimes during the week you just want to whip up something quick.  This fried rice recipe truly is the answer.
Not only is it incredibly flavorful, it's super fast, so you can relax early on those tough work day nights!  So why choose cheap takeout when you can whip this up quick for your family?
This recipe takes only 20 minutes to make and serves about 4 people.  If you have a wok, it's the best idea.  I got mine from a flea market.
Even though they can be expensive brand new, they are a great investment for the kitchen, and the best way to cook any Asian cuisine, among other things.
Recipe and photo courtesy of 12 Tomatoes
GO TO THE NEXT PAGE FOR INGREDIENTS, DIRECTIONS & FURTHER COMMENTS