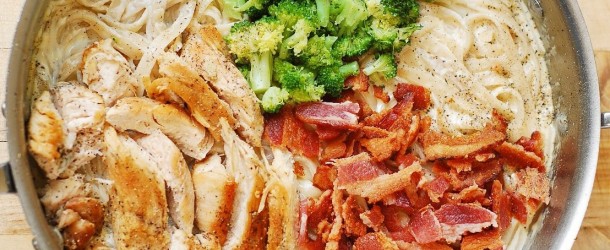 Yummy Creamy Broccoli, Chicken and Bacon Pasta Recipe.
Do you want a balanced and healthy pasta recipe for your family? Try this recipe of Creamy Broccoli, Chicken and Bacon Fettuccine in homemade Alfredo sauce Pasta for dinner. A well-balanced meal that every family member will enjoy.
The fusion of gastronomic secrets combined in a single dish. The creaminess of the Alfredo sauce, moist and tender chicken breasts, crispy bacon that makes everyone happy and the broccoli that is brimming with freshness and flavor.
This is the kind of food that you should be feeding your family. Food that is healthy, yummy and easy on the budget.
Recipe and photo courtesy of Julia's Album
PLEASE VISIT THE NEXT PAGE FOR A LIST OF INGREDIENTS.