Avocado
,
Aztec flour tortillas
,
Bertolli Olive Oil
,
chili powder
,
Cilantro
,
Cumin
,
Daisy sour cream
,
dinner
,
domino sugar
,
eat
,
Eggland's Best eggs
,
enchiladas
,
entree
,
food
,
Gold Medal flour
,
green onions
,
Johnsonville
,
Kraft
,
Kraft Cheddar cheese
,
land o lakes butter
,
lime juice
,
McCormick spices
,
Mexican
,
Monterey Jack cheese
,
Morton salt
,
Oikos Greek yogurt
,
Old El Paso
,
Old El Paso chopped green chiles
,
Old El Paso Flour Tortillas
,
Old El Paso Mild Green Chile Enchilada Sauce
,
onion
,
recipe
,
spinach leaves
,
TruMoo milk
,
Wesson vegetable oil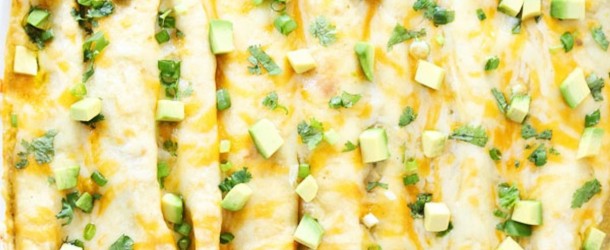 This freezer meal is a secret every busy mother should know.
We all have had those days where we feel too lazy to cook a meal or just don't have time at all. This creamy and heavenly palatable enchilada goodness can save the day. The aroma of this mouth-watering dish can already make you feel full.
"The enchiladas are loaded with cheese! I add in spinach too make them somewhat healthy:) I mix the spinach mixture with sour cream or Greek yogurt to make the enchiladas extra creamy. The enchiladas also have Old El Paso Green Chiles and Green Chile Enchilada Sauce! I top the enchiladas with avocado and cilantro so these enchiladas are green all around and that makes me happy because we all know I LOVE green!"  –according to Maria and Josh of Two Peas and their Pod
Recipe and photo courtesy of Two Peas and their Pod
PLEASE VISIT THE NEXT PAGE FOR THE LIST OF INGREDIENTS
Quick Tip: Before baking this meal, liberally spray your casserole dish with Pam cooking spray to prevent sticking.