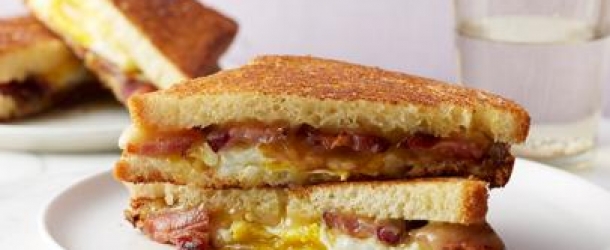 I'm one of those people that loves Thanksgiving for the next day sandwiches, packing everything from a meal, in between two slices.
So if you're anything like me, you're gonna love this breakfast sandwich!
Sweet maple flavors lace this deliciously decadent egg and earthy bacon sandwich.
Trust me folks when I say, not only is this recipe incredibly easy, it's a surefire way to get the family to be quiet for five minutes….while they devour it!
This recipe takes about 45 minutes and serves 4 people, so you may want to double up if you have a bigger family.
My husband doesn't like maple syrup, so if you have a food baby in the house, like him (tee hee) than you can simply omit that part from your recipe.
You can also sprinkle some powdered sugar on the top, to garnish.  Serve with a side of ketchup.
Our friends at the Food Network, had this to say about the recipe:
"Unable to decide between breakfast and lunch? This sweet and smoky sandwich satisfies both cravings. To speed the process, heat and cook using two skillets at the same time." 
Recipe and photo courtesy of The Food Network
GO TO THE NEXT PAGE FOR INGREDIENTS, DIRECTIONS & FURTHER COMMENTS