Argo cornstarch
,
baking powder
,
baking soda
,
barilla pasta
,
Bertolli extra-virgin olive oil
,
black pepper
,
Bob's Red Mill
,
Borden
,
Borden half and half
,
brown sugar
,
Campbell's soups
,
casserole
,
Chiquita
,
Clabber Girl
,
College Inn
,
Cool Whip
,
crock pot
,
Daisy sour cream
,
dessert
,
Dole
,
domino sugar
,
Eagle Brand evaporated milk
,
Eagle Brand sweetened condensed milk
,
eat
,
Eggland's Best eggs
,
food
,
fresh peaches
,
Gold Medal flour
,
granulated sugar
,
Green Giant
,
Hershey
,
Hodgkin's Mill
,
Jell-O
,
Jell-O vanilla instant pudding mix
,
Jif peanut butter
,
Johnsonville
,
keebler
,
kosher salt
,
Kraft
,
land o lakes butter
,
Libby
,
McCormick spices
,
Morton salt
,
Pam Cooking Spray
,
peach ice cream
,
Pepperidge Farm
,
Philadelphia cream cheese
,
Powdered sugar
,
recipe
,
Ritz crackers
,
Sara Lee
,
Sargento
,
slow cooker
,
Thorn Apple Valley
,
Toll House
,
TruMoo milk
,
tyson
,
vanilla
,
vanilla extract
,
Vlasic
,
Wesson vegetable oil
,
whipped topping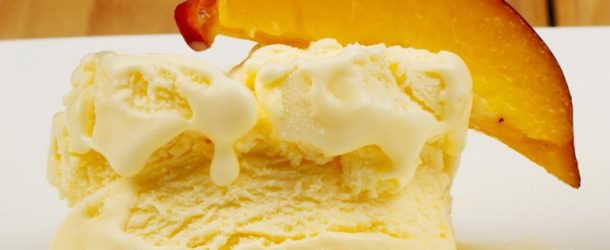 Creamy, Dreamy And Divine – You Won't Be Able To Resist This Dessert
There was this time last summer when I went over to the house of my brother to babysit my niece for the whole day. To make her happy, I made her ice cream. It started with her asking me a story about my childhood. Since it's a warm day, I remembered only one story that was appropriate for the reason. Mom and her ice cream. Mom used to indulge us once in a while whenever we behaved. The indulging actually became more frequent during summers because she made homemade ice cream for the family. Every other week, she made a different flavor just to be fair to everyone.
Mom had an old ice cream maker. It was just a small box that has churning wheels inside it. It churned the mixture until it finally became ice cream. My niece loved the story and asked if I could make her ice cream since they have fruits in the fridge. However, my brother didn't have an ice cream maker.
He didn't want it to be a reason for his daughter to request for the frozen treat every day. So I researched online if I could make her something really good that didn't require the use of an ice cream maker. This recipe that I am about to share you was what I found. And guess what, it earned me the title, "Auntie of the Year"!
USE THE RED NEXT PAGE LINK BELOW FOR THE RECIPE AND INGREDIENTS
Quick Tip: Top with your favorite toppings such as nuts, whipped cream, and cherry if you're going to serve it in a sundae dish.