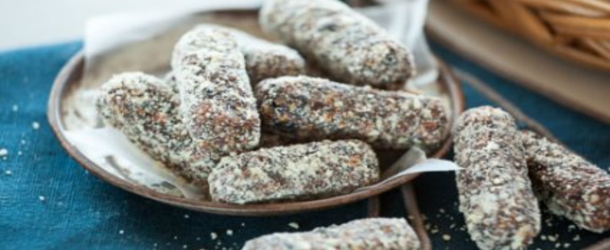 Are you a fig lover? I never was until I gave these funny looking snacks a try. Filled with chewy figs and pliable dates, these babies are actually very good! The fact that they're rolled in cinnamon and orange zest makes them even more appealing. Don't forget about the hints of pure vanilla extract that encompass these figgy almond treats. Yummo!
When I first saw these figgadelic treats, I thought they were straight up out of a gourmet bakery. There would be no way I could ever make these in my own kitchen, right? Wrong! They are super easy to throw together in a few minutes. Plus, they look super dainty and sweet when nestled on top of tissue paper that rests on a pretty plate. Serve your tea party guests up a few of these figgy darlings and watch their eyes roll back into their heads in utter food ecstasy.
Recipe and photo courtesy of Whole Foods Market.
PLEASE VISIT THE NEXT PAGE FOR A LIST OF INGREDIENTS.