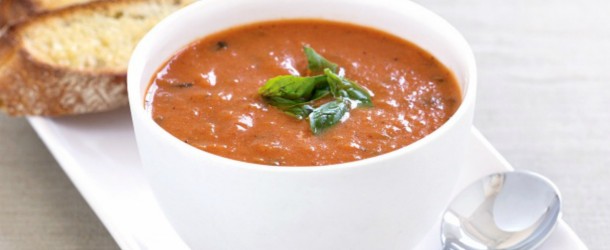 This easy to make Savory Scrumptious Soup is a healthy option if you are bored with the usual cream-filled soups.
If you happen to pass by the nearest farmers market and see juicy, red tomatoes, buy them. The good thing about using fresh from the farm ingredients is that you can create healthy dishes for your family. You can eat this with garlic bread, a grilled cheese sandwich, or even a baguette. Nothing can beat the warm feeling of home cooking.
"This soup recipe is very simple and easy. the tomatoes are sliced and then roasted in the oven with some garlic and olive oil. along with the roasted tomatoes, the juices of the tomatoes and garlic with the olive oil is then pureed. add a dash of pepper and salt and the soup is ready. easy and no cooking on stove top involved." –according to VegRecipesOfIndia.
Recipe and photo courtesy of VegRecipesOfIndia
PLEASE VISIT THE NEXT PAGE FOR THE LIST OF INGREDIENTS.
Quick Tip: Pair this warm and comforting soup with a grilled cheese sandwich or a slice of crusty garlic bread.