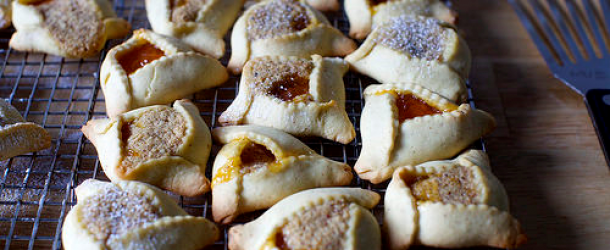 These adorable and delicious little cookies are traditionally made for the Jewish holiday of Purim. The story goes that the villain of the story, named Haman, wore a tricorne hat. However, the good news these delicious cookies don't require you to be Jewish or have a holiday to make these cookies. These cookies are made with a brown butter dough flavored with vanilla beans. They're filled with a hazelnut brown butter and apricot jam, then the dough is pinched up to form the tricorne shape. Bake them, sprinkle with powdered sugar and enjoy!
These little cookies are perfect for a little treat. They're just big enough for a couple of bites, so they're perfect to satisfy your sweet tooth. They're such perfect little cookies that are great for get-togethers, snacks, holidays, parties or just as a regular dessert.
Photo & Recipe Courtesy of Smitten Kitchen
PLEASE VISIT THE NEXT PAGE FOR A LIST OF INGREDIENTS.