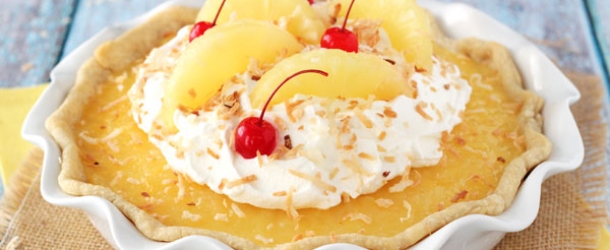 Right now I'm dreaming of tropical nights somewhere on the other side of the world… It's fall and the weather is getting chilly – I just don't want to let go of the summer yet! Fortunately there's an easy way to bring back the summer vibes, and I don't even have to purchase plane tickets. This pie sort of reminds me of coconut cream but the pineapple turns it into a super delicious and refreshing summer dessert.
There are a couple of really nice touches the maker of this recipe came up with. First off the addition of the Malibu Rum in the coconut cream filling is spot on! Next, by adding the pineapple juice and the coconut extract to the heavy whipping cream, it just really brings the flavor profile of this pie together and tastes well thought out. This pie will be a big hit with your family – and if you're planning on inviting friends over for dinner, this should absolutely be your dessert!
Original Recipe Life, Love & Sugar
USE THE RED NEXT PAGE LINK BELOW FOR THE RECIPE AND INGREDIENTS
Quick Tip: This will be delicious even if you leave out the whipped cream on top!