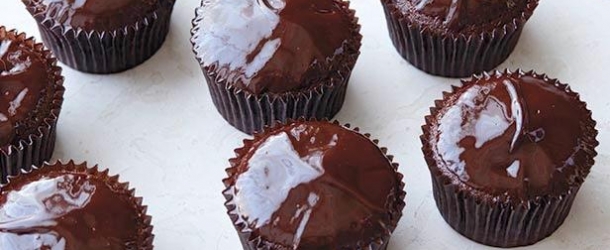 Ok…so it's a play on words, but truly, who wouldn't love a cupcake frosted with chocolate ganache?
The frosting is like looking into a shiny mirror of chocolate.  I mean, you can practically see yourself!
Forget about that cheap, store bought can of grainy sugar frosting.
This dessert is simply heavenly, and super easy to make.
With a hint of coffee and whipped in heavy cream, it's no wonder these treats never last!
This easy recipe makes about a dozen cupcakes and is ready in under a half of an hour.  
Careful about transporting these ones, as they can get pretty messy, but they're well worth it…anytime!
If you don't like the coffee bit, skip it!  No biggie!  I do that often with my kids, and they still love it!
Or why not double the batch and bring some to co-workers and neighbors.  you'd be surpirised at how many favors you get in return! 😉
Recipe and photo courtesy of  The Food Network
GO TO THE NEXT PAGE FOR INGREDIENTS, DIRECTIONS & FURTHER COMMENTS