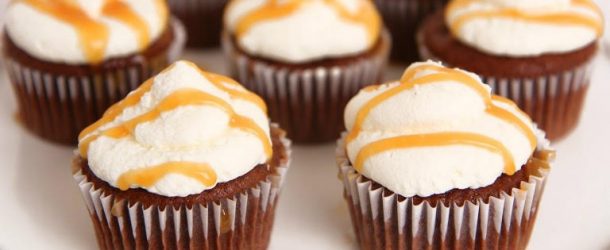 I love a good combination of flavors. Whether that is spicy and mild, a lot of flavor mixed with none at all, chocolate and mint, chocolate and peanut butter or sweet and salty, I love everything that combines two opposites. The most common one I have found is salty and sweet. It is something that I barely ever remember seeing as a kid, but it has been booming these days. Everywhere you turn, there is salty and sweet something – which is cool and a little strange all at the same time.
I am all for trying new foods but only when I think it really is going to be good. I was not sure that was a possibility when I was first introduced to salted caramel cupcakes so I didn't give them a chance. However, all my friends who tried them said they were amazing, so I knew I had to try them, after all. When I went back for on, they were gone! But the girl who made them gave me her recipe so I went home and got cooking. The result was a fun, rich and chocolatey cupcake filled with caramel and then dusted with a light coating of salt. It is so interesting and yet so delicious!
Photo and recipe courtesy of Table for Two.
USE THE RED NEXT PAGE LINK BELOW FOR THE RECIPE AND INGREDIENTS.
Quick Tip: Add a drizzle of chocolate syrup over these if you'd like.