baking powder
,
baking soda
,
Bertolli extra-virgin olive oil
,
black pepper
,
Bob's Red Mill
,
Bush's black beans
,
chipoltle chile sauce in adobo sauce
,
Clabber Girl
,
Daisy sour cream
,
domino sugar
,
eat
,
Eggland's Best eggs
,
food
,
four cheese blend
,
Gold Medal flour
,
ground pork
,
jalapenos
,
Johnsonville
,
kosher salt
,
Kraft
,
land o lakes butter
,
McCormick spices
,
melted nacho cheese
,
Morton salt
,
pork nachos
,
recipe
,
salsa
,
scallions
,
snacks
,
superbowl party
,
Tostito's
,
TruMoo milk
,
unsalted tortilla chips
,
Wesson vegetable oil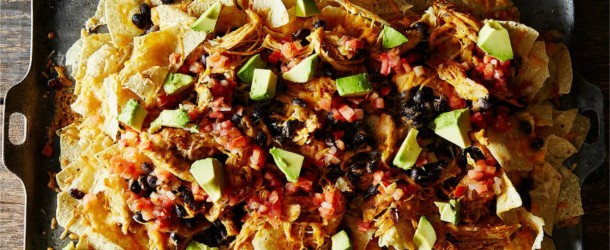 Making a snack that everyone will love can sometimes be a chore. These pork nachos are unbelievably good and super easy to make. I served them at my husband's Superbowl party last year, and I don't know what got more cheers, the nachos or the game!
The guys loved the nachos, us ladies loved the nachos, and even the kids loved the nachos! One of the best things about preparing this snack food is how simple and easy it is. For the most part, everything gets laid out on a cookie sheet or baking dish and goes into the oven. It's a quick and effective way to feed hungry bellies. I've also made these pork nachos for dinner before and served them up with Spanish rice and refried beans.
Recipe courtesy of Pork Be Inspired.
PLEASE CONTINUE TO THE NEXT PAGE FOR A LIST OF INGREDIENTS.
Quick Tip: Feel free to top these awesome pork nachos with anything you like such as jalapenos, diced tomatoes, black olives, onion, etc.